Take Hwy 95 to Cactus Spri
All are Welcome!
`~ A multi-faith community space celebrating Goddess and Earth-honoring Spirituality, compassionate peace activism, and the practice of Maternal Gift Economy ~
The Temple and grounds offer peace sanctuary, gathering space, guesthouse and camping facilities. Celebrating the lunar and solar holidays of the Wheel of the Year, and honoring Sacred Mother as source of all Creation, all who come seeking peace are welcome to visit the grounds and participate in the rituals, regardless. As a drug, alcohol and weapon-free space, reverence and respect shape the revelry and reverie.
Sekhmet Temple Cactus Springs is a tax-exempt nonprofit corporation. Everything is offered free of charge, and… we rely solely on generosity and joyful reciprocity to cover building costs, land maintenance and operational/living expenses.
Vision
Co-creating environments where human systems reflect and reciprocate Earth Mother's diverse and *proclusive ways of gifting, sharing, caring and celebrating,
Mission
Nurturing cultural regeneration by attuning to and engaging the mysteries and magic of Sacred Mother — through ritual, land restoration and community-building.
About
The project was founded when Genevieve Vaughan purchased land between the Mercury nuclear test site and Creech Air Force Base—threshold land to serve as an outpost of peace, and a promise kept to Sekhmet. In October of 1992 she gave the land back to the Shoshone Nation, marking 500 years of Indigenous survival despite colonialism, and engaged a long-term agreement to steward the land as temple grounds. Built by women in 1993, the temple seeks to model matricentric non-hierarchical leadership, sustainable stewardship, and a return to maternal values.
The leonine Goddess Sekhmet of Egyptian cosmology supports Ma'at, the principle of living in harmony and balance, with justice and mercy. She embodies Fierce Compassion. Dissolving all that does not serve Sacred Law, she catalyzes healing and transformation through cycles of life, death, and rebirth. Of Indigenous African roots, she assists in the melting of oppressive and extractive systems of capitalism, patriarchy, and control culture—toward the emancipation and flourishing of all sentient beings through a return to relational reality rooted in reciprocity and compassion.
www.SekhmetTemple.org ~ EIN# 87-2692378 ~ Temple Landline 702-983-2151
                                                  Generosity Donations Portal
Infinite gratitude for continued Generosity Donations while our website is under construction.
Online one time donations and monthly subscriptions are available as an option listed in the menu..
Contributions can also be made with PayPal to SekhmetTempleCactusSprings@gmail.com and Checks made out to Sekhmet Temple Cactus Springs, and mailed to 28425 Highway 95N/PO Box 813, Indian Springs, NV 89018 ~~~~~ Thank you, Thank you, Thank you!
Temple and grounds open daily from sunrise to sunset (and later by request); all are welcome.
Available facilities include outdoor toilets and sink next to guesthouse.
Camping, Guesthouse and Pavilion use available upon request.
Behavior befitting a sacred peace sanctuary expected at all times; drugs, alcohol, and weapons not permitted on premises.
New Moon, Full Moon, and Sabbat rituals offered regularly.
For any and all inquiries, email sekhmettemplecactussprings@gmail.com or call 702.983.2151.
Blessings to all!
Even as our website is currently amidst ongoing construction, the Temple heralds a new era of ever growing emphasis in *proclusive engagement with Earth Mother(All Our Relations), First Nations and the many diverse visiting groups/folks and devotees. Fostering a deeper familial environment as a sanctuary and active maternal gift culture, perpetuating more nourishment with and for the land with All our relations.
"Proclusive"-Miki Kashtan, co-founder of Bay Area Nonviolent Communication(BayNVC)
---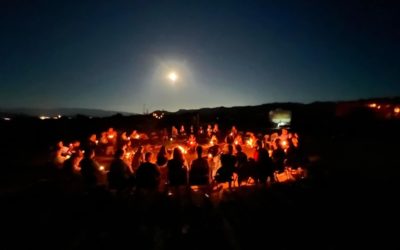 We're so thankFuLL to gather and celebrate the Autumnal Equinox on Friday September 22, 2023 together. Honoring second harvest and Wisdom Keeping. We will meet at the Peace Pavilion/Guesthouse area at 630pm to settle in for a lovely pre ritual feast then process to...
Even if you can't come to the Temple for an Artist Retreat, you can contribute your artistic talent through our Artist Trading Card Project.
The Temple of Goddess Spirituality Dedicated to Sekhmet promotes Goddess Spirituality, Peace, and the Gift Economy.  The Goddess Temple is a project of the Center for the Study of the Gift Economy under the direction of Genevieve Vaughan.  Here, feminine values are honored and the Divine Mother is revered.
The white stucco Temple opens to the elements of nature, with archways to the four directions and an open roof to the sky. Peace and reverence live within the temple, welcoming all that come. Together in ritual we celebrate the dance of the earth, sun, and moon. All are invited to pray, meditate, and connect with the Divine Feminine that is within and around us.
No Results Found
The page you requested could not be found. Try refining your search, or use the navigation above to locate the post.
Welcome to the Goddess Temple of Sekhmet. I am so happy you have come to visit me. I am the Goddess of fertility, the desert, and much more. Fire is my element, and the Sun is my messenger. Come closer, I may whisper one of my more than 10,000 names to you. Humans only know about 4,000. But you may know more, – perhaps! Visit with me, show me your love and sincerity. Tell me of your dreams….. . I also want to know about your dedication of loving Earth Mother and honoring every spirit.
Spiritual retreat can take many forms. Imagine coming to the Temple of Goddess Spirituality for an artist's retreat. Here in the deep peace of the desert silence, ideas are waiting to germinate. Come paint a picture, make a sculpture, or create a beautiful mosaic piece. Creativity is one of the most spiritual acts we are capable of. When we bring something into being, we are expressing our Goddess nature. What is waiting to come to birth through you? By giving yourself the gift of the desert's silence and stillness, you can deepen into the Source from which creativity …